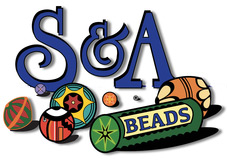 Bead Blessing Ceremonies
Wisdom, Wishes, and Love . . . One Bead at a Time
About Lisa O'Brien, S&A Sales Associate 
A bead blessing ceremony can add heart-felt and enduring significance to your event. Traditionally this type of "ceremony" is conducted for expectant mothers, but it can be used at any gathering intended to honor any one . . . or any thing.
I incorporated a bead blessing ceremony into a baby shower for my daughter -in-law, Kelly. Typically, guests are asked to bring a bead to the event. However, in this case, I took advantage of my employment with S&A Beads and borrowed a large plastic container filled with beads. As the guests arrived, I gave them the container and asked them to make their selection.
When it was time for the ceremony, the guests took turns presenting their beads to Kelly with some words of encouragement or advice. It was wonderful how the beads "spoke" to many guests, helping them formulate their words of wisdom.
After the shower, I asked Cheryl Moody, S&A's senior designer, to string the beads. Because they were irregular in shape and hole size, she strung the beads with knotting cord and then connected the knotting cord to a piece of soft suede. Cheryl took care to ensure the final strand was as tactile as possible.
I don't expect that Kelly will wear these beads as a necklace. I do hope that she will keep them close as a remembrance of the wisdom, wishes, and love of her family and friends. Want to host a bead blessing ceremony? Contact S&A Beads. We can help you plan the ceremony, and, after the event, string your beads for an enduring keepsake.
Three-year-old Rowan was thrilled to have the job of collecting the beads in a brass bowl.
The bowl emanated a cheerful ker-plunk each time a bead was added.
Two guests selecting their special bead.
The final result!
---
1 Response
Leave a comment